The UN and Diabetes Eswatini Celebrate International Women's Month
On the 27th of March 2021, at the Mantambe Community, Shiselweni, Diabetes Eswatini and the UN family celebrated International Women's Month.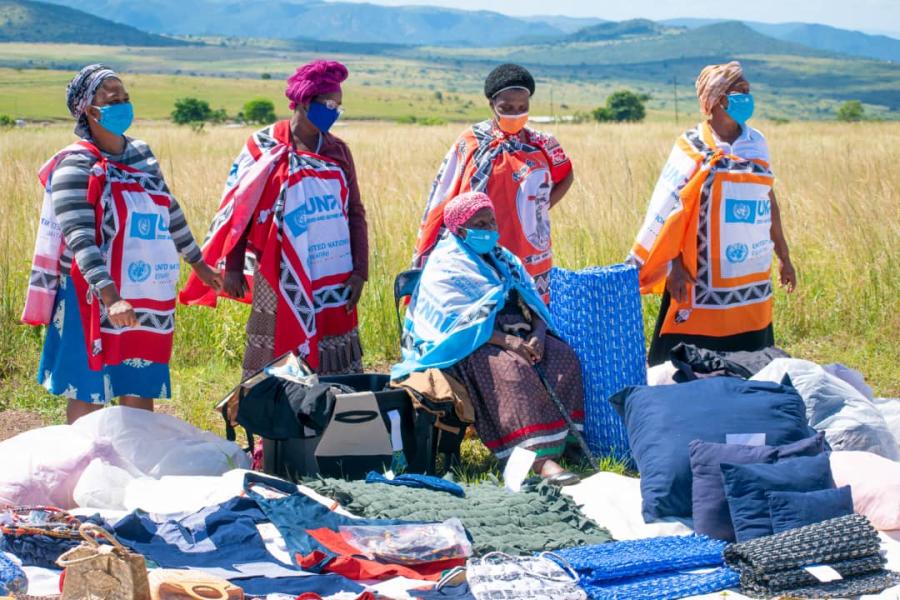 Photo | Muzi Dlamini | UNRCO
Hosted by Diabetes Eswatini, the event aimed to raise awareness of diabetes in the country, as well as its consequences on persons living with diabetes, particularly women. Diabetes Eswatini's vision is "to have a healthy Eswatini, free of diabetes mellitus;" one that is shared with the United Nations through Sustainable Development Goal (SDG) 3; 'Good Health and Well-being" for all.
Diabetes is a growing global health issue worldwide, with nearly half a billion people living with the disease. Women are at greater risk than men, with diabetes acting as the ninth leading cause of death in women.
Mrs Dumsile Mavuso, the founder of Diabetes Eswatini, works to empower communities, particularly women, to know their health status, through the Diabetes Eswatini association. During the occasion, she emphasized the need for people with diabetes to ensure healthy eating, regular physical activity, medical periodic check-ups, including diabetes mellitus screening and counselling.
On behalf of the UN Resident Coordinator, Mrs. Khanyisile Mabuza, Representative of the Food and Agriculture Organisation (FAO), emphasized that; "Women not only to work to empower themselves, but their families, communities and future generations of women. People with diabetes must be protected and empowered, particularly women who show everyday strength and courage as individuals, mothers, daughters and community leaders."
She continued to recommend that Emaswati should focus on eating healthy, indigenous foods such as: beans, chicken and spinach, which ultimately help to protect bodily health from diseases such as diabetes.
Make Myeni, a representative of the women in the community, encouraged women to learn from other women, share their talents and be each other's pillars of strengths. She emphasized the need for women to have entrepreneurial skills and extended gratitude to the UN family for its support, which will ultimately enable the community to acquire land for the Women's Centre.
Mrs Mabuza concluded by acknowledging the "the immense strength and courage of all who are here today as well those who are fighting the 'silent killer'." She continued that women's struggles are seen and heard and the UN family looks forward to continuing to strengthen its partnership with Diabetes Eswatini.
UN entities involved in this initiative
FAO
Food and Agriculture Organization of the United Nations
RCO
United Nations Resident Coordinator Office
Goals we are supporting through this initiative