A Sustained Focus on SDG 2, 'Zero Hunger', is Critical in Achieving Agenda 2030
UN Resident Coordinator, Ms. Nathalie Ndongo-Seh writes that the UN Development System stands ready in solidarity with people of Eswatini to end hunger by 2030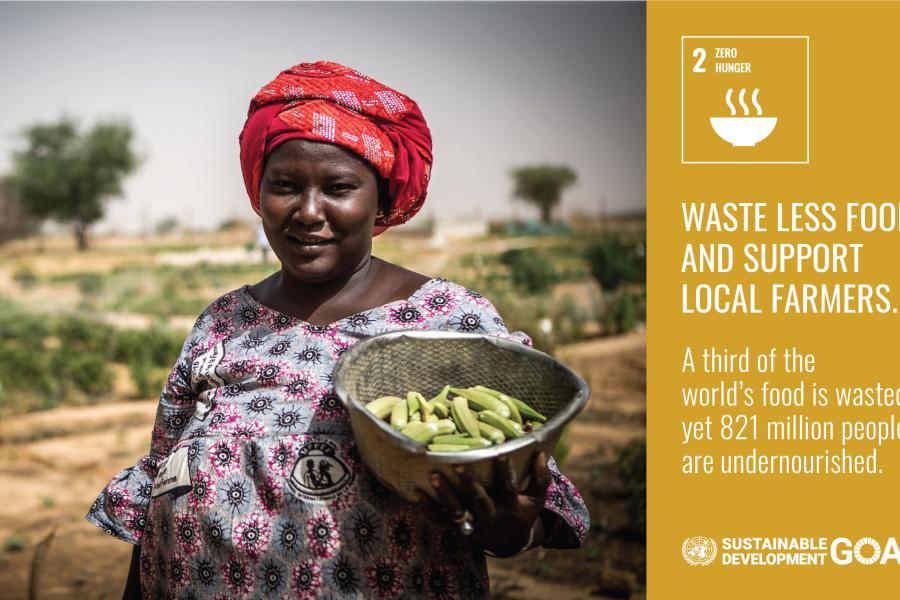 BY NATHALIE NDONGO-SEH         
Reports from various sources, including the United Nations Food and Agriculture Organisation (FAO)[1] and the World Food Programme (WFP), all establish the same sobering and alarming reality: the world is not on track to achieve Zero Hunger by 2030. In fact, should the current trends continue, the number of people affected by hunger will surpass 840 million by 2030, as opposed to 795 million in 2015 when Agenda 2030 was being adopted by the World Leaders, or  821 million in 2019 before COVID-19, the global health pandemic struck the world.
According to the United Nations Committee on World Food Security: 'Food Security' occurs when "all people, at all times, have both physical and economic access to sufficient food to meet their dietary needs for a productive and healthy life". Food security is not only dependent on the availability of food but also on the effective access and utilization of quality foods.
Lack of access to high quality foods in Africa has quickly become a leading factor of food insecurity as most diets, particularly in Sub-Saharan Africa, are largely consistent of cereals or root staple crops, with minimal animal source proteins, nutritious vegetables and fruits. High cost and lack of local availability of these crops, as well as low-income of households, ultimately contribute to low-quality diets in the region.
Such low-quality diets are also contributing factors to the growing numbers of obesity in both developed and developing countries. Unfortunately, obesity places a tremendous burden on frail healthcare service, and impact negatively productivity levels of the workforce.
Food insecurity can, however, be overcome: the assurance of sufficient quantity and diversity of food available to small-holder farmers and the marketplace, as well as access to individual households through sufficient physical and financial resources, are paramount to overcoming hunger around the world. So too is the ever pressing need to enhance a nation's ability to cope with environmental shocks due to climate change, and maximise individuals' 'food utilization', which is critical to achieving food security.
'Food Utilization' refers to "a person's body's ability to convert food into energy for immediate use or storage, which ultimately has a direct impact on their level of nutrition". Optimum food utilization requires a healthy diet and environment with safe drinking water, fuel to cook, good sanitation and hygiene, minimal infectious diseases, knowledge of self-care, food preparation and safety.
According to WFP, 135 million of people around the world suffer from acute hunger, largely due to man-made conflicts, climate change and economic downturns. The COVID-19 pandemic has put an additional 130 million of people at risk of suffering acute hunger by the end of 2020. In the Southern Africa region, an estimated 45 million are at risk of food insecurity while, in Eswatini, a third of the population (approximately 366,000 individuals) are exposed to the same  risk due to the compounded impact of COVID-19 socio economic effects and poor seasonal performance.
With more than a quarter of a billion of people potentially at the brink of starvation, swift action needs to be taken to provide food and humanitarian relief to the most at-risk regions and countries of the world, including Eswatini.
At the same time, a profound change of the global food and agriculture systems is needed if we are to nourish the more than 690 million people who are hungry today, and the additional 2 billion people that the world will have by the year 2050. Increasing agricultural productivity and sustainable food production are crucial to help alleviate the perils of hunger.
In light of COVID-19's  effects on the food and agricultural sector, prompt measures are needed to ensure that food supply chains are kept alive to mitigate the risk of large shocks that have a considerable impact on everyone, especially on the poor and the most vulnerable. 
In 2020, 3 billion people were unable to afford a healthy diet, causing a rise in malnutrition, under-nutrition and obesity. Developing countries, in particular, have the highest malnutrition levels, with Sub-Saharan Africa being home to 239 million undernourished people. This represents the second highest proportion of hungry persons, close to South Asia which stands at 513.8 million.
Hunger is the biggest killer of children under the age of five (5) in developing countries; something that we shall change and significantly reverse immediately. The number of hungry children, youth and adults is increasing, with another 60 million of persons having been pushed into hunger in the past five years.
In Eswatini, malnourishment levels for children under the age of five (5) is 5.8 percent and affects rural boys more than girls. Strong policies to protect our children are therefore   critical to ensuring their nutrition. In this regard, the UN Development System in Eswatini is supporting the Government of Eswatini in implementing effective school-feeding programmes to improve nutrition among our children. Through home-grown school feeding programmes, WFP Eswatini is also working with smallholder farmers to enhance local production and supply to local markets. Livelihood support in community Neighbourhood Care Points (NCPs) is strengthening food security and the sustainability of social protection programmes. WFP Eswatini also partners with the Government to improve food and nutrition security of the most vulnerable people in communities with high prevalence of food insecurity and malnutrition induced by compounded impact of poverty, HIV/AIDS, drought, and COVID-19 Socio-economic effects, in addition to supporting the Government's COVID-19 Food assistance Plan, through short-term emergency food assistance.
The continent of Africa holds an incredible and unique potential to overcome hunger due to its immensely and topographically diverse land and, in turn, diverse food crops. Over 150 different food crops are indigenous to the continent, thereby heightening the rate of successful growth by small-holder farmers.
In Eswatini, smallholder agriculture remains the backbone of rural livelihoods, with over 70 percent of the country's total population (60 percent of whom are women) relying on subsistence farming.
The UN acknowledges that a long-term solution to hunger and food insecurity lies with sustained inclusive economic growth. On 22 October 2020, the Government of Eswatini and the United Nations signed a Sustainable Development Cooperation Framework (2021-2025), which aims to contribute to "a prosperous, just and resilient Eswatini where no one is left behind." One of the four outcomes to be achieved in the next 5 years cycle is to promote sustainable and inclusive growth in line with the National Development Plan (NDP), Strategic Road Map and post-COVID-19 Economic Recovery Strategy.
With more than 70% of the rural population depending on agriculture for subsistence and livelihoods, the UN Development System and partners in Eswatini acknowledge the critical role of a transformed agricultural sector in bringing sustained economic growth. Through the Food and Agriculture Organisation (FAO), the UN in Eswatini is currently implementing the 'Agrinvest Initiative' in collaboration with the Ministry of Agriculture. This initiative aims at bringing transformation in Eswatini's agricultural value chains by attracting private sector investments in agri-food systems through the formulation of enabling policies and conducive regulatory conditions for an inclusive participation of rural vulnerable communities in the economy.   
In an effort to mitigate the socio-economic impact of COVID-19, the UN in Eswatini, led by FAO, has also sought to increase the local production of vegetables by supplying small-holders farmers with free seedlings in partnership with NAMBoard. It is worth noting in this regard that, in an effort to combat the negative effects of climate change and ensure the equitable sharing of benefits from using genetic resources, Eswatini has developed a gene bank to conserve most important plant genes.
It is only by standing together and combining our efforts that we will make headway in this global battle against hunger and malnutrition. However, we should not under-estimate the significance of individual efforts, which include limiting our food waste and supporting local produce. This will ensure that local farmers are empowered to continue producing sustainable and nutrient-dense foods.
The United Nations in Eswatini continues to stand in solidarity with the people, the Government and partners of the Kingdom as, together, in unity and with shared responsibility, we seek to end hunger. Our efforts shall be increased, hastened and become more ambitious during this Decade of Action, if we are to achieve SDG 2 'Zero Hunger' and all other 16 SDGs by 2030.
UN entities involved in this initiative
FAO
Food and Agriculture Organization of the United Nations
Goals we are supporting through this initiative