The UN Resident Coordinator Celebrates the 30th Anniversary of Swatini Action Group Against Abuse (SWAGAA)
On Thursday, 26th November, the UN Resident Coordinator, Ms Nathalie Ndongo-Seh, joined the Hon. Deputy Prime Minister to celebrate SWAGAA's 30th Anniversary.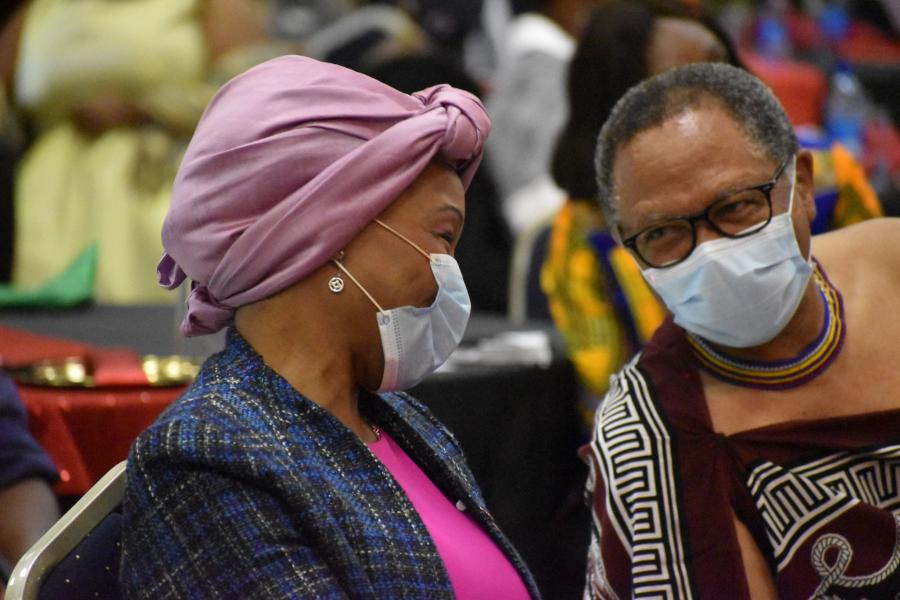 Photo | Erin Kennedy | UNRCO
On Thursday, 26th November 2020, the UN Resident Coordinator, Ms Nathalie Ndongo-Seh, joined the Hon. Deputy Prime Minister, HRH Regional Administrator of Manzini, Justice Mumcy Dlamini and esteemed guests to honour the 30th anniversary of Swatini Action Group Against Abuse (SWAGAA), in ending gender-based violence in the Kingdom of Eswatini.
Hosted at Esibayeni Lodge, Manzini, the celebration included powerful drama skits, poetry and song about the devastating impacts of gender-based violence. So too were 30 prizes awarded to all those who have made a significant contribution towards the impact of SWAGAA.
"I heard that it was common, for a potential victim of abuse to warn and stop her perpetrator on the tracks by shouting: 'I will report you to SWAGAA.' Whether this is a legend, a myth or reality, this report speaks volumes about the respect, the strength, the powers and deterrent effect of our esteemed organization," stated the UN Resident Coordinator.
SWAGAA has quickly become a local household name as it continues to battle against gender-based violence (GBV) in the Kingdom of Eswatini: raising awareness about GBV, empowering children and adults on the issue and providing care and support for survivors. Significant to SWAGAA's impact is assisting the adoption of the Sexual Offences and Domestic Violence (SODV) Act in 2018.
A staggering one (1) in three (3) Swazi girls experience sexual violence before the age of 18; suffering the lifelong effects of this trauma.
The UN Secretary-General, Mr António Guterres, in his address on the International Day for the Elimination of Violence Against Women, noted that; "violence against women and girls is a global human rights challenge." This challenge has since escalated during the COVID-19 pandemic which has exposed the extent to which gender-based violence occurs. The Secretary-General continued to stress that; "the social and economic fallout from the pandemic is disproportionately pushing women and girls into poverty, and the risk of violence against them is rising."
Thus, in response to the scourge of GBV in Eswatini, the newly-adopted UN Sustainable Development Cooperation Framework (UNSDCF) 2021-2025, through extensive consultations with line ministries, parastatals, private sector, academia and civil society, seeks to contribute to; "a prosperous, just and resilient Eswatini where no one is let behind," including women and girls.
The UNSDCF serves as a promise to the people of the Kingdom of Eswatini and planet, seeking to provide a clear roadmap to achieving national development goals and Agenda 2030.
In closing, the UN Resident Coordinator stated; "Finally, together, we must prioritise women's leadership in finding solutions to ending the violence against women and girls while also engaging boys and men in our endeavours.  In his call under the theme of this As Let us 'orange the world' together, "Fund, Respond, Prevent, Collect" the Secretary-General has requested Member States to make urgent funding available for women's rights organizations and recognize their role as first responders,"
"The UN Development System in Eswatini strongly encourage the Government to set aside predictable and flexible funding for women's rights organisations such as SWAGAA, which so often act as first responders during crises.  It is critical that services for survivors of violence remain open, with adequate resources and measures in place to support health, social and justice responses."
For more information about SWAGAA, click here: https://www.swagaa.org.sz/.
UN entities involved in this initiative
RCO
United Nations Resident Coordinator Office
UNFPA
United Nations Population Fund