The UN Celebrates World Children's Day with the Orphans and Vulnerable Children at SOS Village, Mbabane
On Friday, 20th November, the UN Resident Coordinator joined the children of SOS Village, UNICEF and partners in an exciting celebration of World Children's Day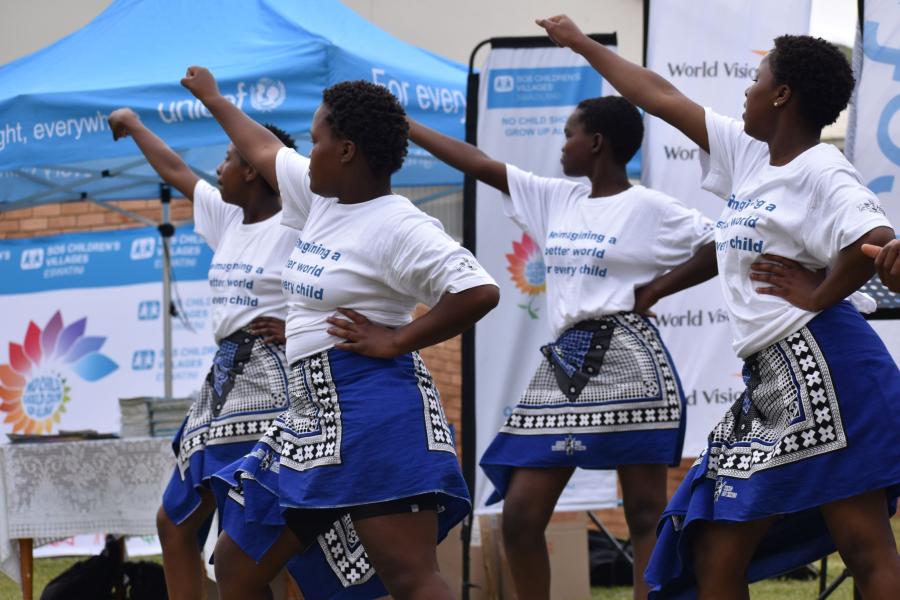 Photo | Erin Kennedy | UNRCO
On Friday, 20th November 2020, the UN Resident Coordinator, Ms Nathalie Ndongo-Seh, joined the Hon. Minister of Education, UNICEF and World Vision to celebrate World Children's Day with the wonderful orphans and vulnerable children at SOS Village, Mbabane.
The day was impressively organized and run "by children, for children," under the theme; "reimagining a better world for every child." The children at SOS Village, a Residential Care Facility for Orphans and Vulnerable Children in Mbabane, Eswatini, produced incredible art work, speeches and performed drama skits and dances, for one another and invited guests, depicting a better world for children.
The art work produced by the children showed a world in which every child knows the touch of their mother, drugs and alcohol abuse do not affect children and every child has the tools to achieve their dreams. Dramatic pieces and speeches spoke to the devastating consequences on children of gender-based violence, physical and emotional abuse, lack of access to quality education, and lack of participation in decision-making.
"It is true that children are our greatest treasure. Looking at each one of your bright and shining faces, I am reminded that this is ever true," stated the UN Resident Coordinator.
"World Children's Day is not only significant in marking 31 years since the adoption of the Convention on the Rights of the Child by the UN General Assembly but is a critical day to hear the issues that affect your lives; the lives of our children and indeed, hear your exceptional solutions,"
"This year, World Children's Day is taking place during a unique and difficult time. The COVID-19 pandemic has caused great suffering across the world, with the children bearing the brunt of the devastations," Ms Ndongo-Seh continued.
Children and adolescents account for one in nine reported COVID-19 cases, with girls and boys living in poverty at greatest risk of being left behind during and following the pandemic. 150 million children are expected to be pushed into poverty because of the COVID-19 pandemic, living without access to education, healthcare, housing, sanitation and water.
Furthermore, imposed lockdowns and resultant school closures affected 1.6 billion children and youth worldwide, with 463 million of those unable to access the Internet and remote learning throughout 188 countries.
In a moving gesture, the UN Resident Coordinator requested all children who have felt that they have been affected by the COVID-19 pandemic, to stand up. In a moment of astounding silence, all children present stood up.
"For many children, especially in developing countries and including yourselves, schools are a place of safety, joy, learning and the provision of their one daily meal. For millions, this place of refuge was abruptly removed," stated Ms Ndongo-Seh.
Children in developing countries, without access to remote learning, are expected to have lost four full months of schooling, in comparison to six weeks lost in developed countries. The sub-Saharan Africa region has the highest number than any other region in the world of children who are out-of-school.
A further 36 million children worldwide are also likely to go to bed hungry in 2020.
"Our children, near and far, do not deserve to go without food, nor should we rest until all of them are fed well every day," continued the Resident Coordinator.
Despite the immense difficulties faced by the children of Eswatini and worldwide, the girls and boys of the SOS Village showed infectious joy; a symbol of their everyday courage, bravery and resilience.
"We need to create an Eswatini and a world that are better for children, including each of you here today. As we work towards achieving Agenda 2030 and the 17 Sustainable Development Goals, which promise a better world for all, we are reminded of the great words of the late Nelson Mandela: 'The true character of society is revealed in how it treats its children,'"
"Let us be known as an Eswatini that adores its children; empowers, listens to and learns from them. We need to hear our children's voices; we need to hear your voices!" stated the Resident Coordinator.
World Children's Day was first adopted in 1954 and is celebrated annually on 20th November, to celebrate the power of children to change the world. 2020 marks 31 years since the adoption of the Convention of the Rights of the Child.
The event was supported by UNICEF.
UN entities involved in this initiative
RCO
United Nations Resident Coordinator Office
UNICEF
United Nations Children's Fund
Goals we are supporting through this initiative