Eswatini Launches its National Awareness Campaign to Combat Trafficking in Persons
On 28th April, the Government of Eswatini and International Organization for Migration (IOM), launched an awareness campaign to combat trafficking in persons.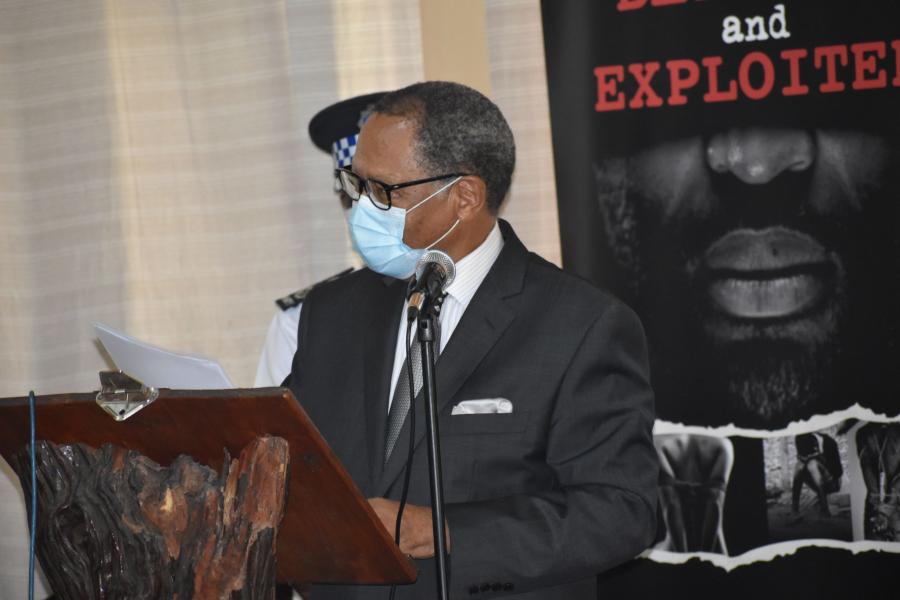 Photo | Erin Kennedy | UNRCO
The launch, held at Nkonyeni Lodge, was attended by the Hon. Acting Prime Minister, a representative of H.E. Ambassador of the USA, the UN Resident Coordinator, Head of Office at IOM and invited guests.
The Trafficking in Persons awareness campaign, an effort between the Government of Eswatini and the International Organisation for Migration (IOM), aims to build the capacity of communities to identify and report Trafficking in Persons cases to the authorities.
The Kingdom of Eswatini loses Emaswati to human trafficking each year. Between 2016 and 2018, 50 victims of trafficking were detected - most of whom were trafficked for labour and sexual exploitation to neighbouring countries South Africa and Mozambique. Human trafficking for purposes of sexual exploitation is largely inflicted upon girls and women, fueled by promises of work or education opportunities in South Africa.
The COVID-19 pandemic has since exacerbated the vulnerability of already vulnerable populations, particularly children, youth, migrants and refugees. Imposed lockdowns and resultant school closures affected 1.6 billion children and youth around the world, including 350,000 Emaswati learners. A further 5.2 million girls are at risk of never returning to education once schools eventually re-open, a devastating consequence of teenage pregnancies.
"History tells us that, in times of crises, our girls are in particular danger of sexual violence and exploitation, having devastating consequences," stated the UN Resident Coordinator, Ms Nathalie Ndongo-Seh.
"Despite efforts to address human trafficking in Eswatini, there is a desperate need to strengthen capacities to detect domestic trafficking, as instances of human trafficking continue to increase across the Southern African region,"
"The renewed efforts of the Government of Eswatini, in collaboration with the International Organisation for Migration (IOM) and partners, reflected in today's launch of the awareness campaign to combat trafficking in persons in Eswatini, is therefore a pivotal step to preventing and responding to instances of human trafficking," Ms Ndongo-Seh continued: "One liSwati lost to human trafficking is one too many."
UN entities involved in this initiative
IOM
International Organization for Migration