UN Eswatini staff join the Walk the Talk global health challenge
The World Health Organisation led the UN Eswatini and partners in the 'Walk the Talk: The Health for All Challenge' which promotes and celebrates health.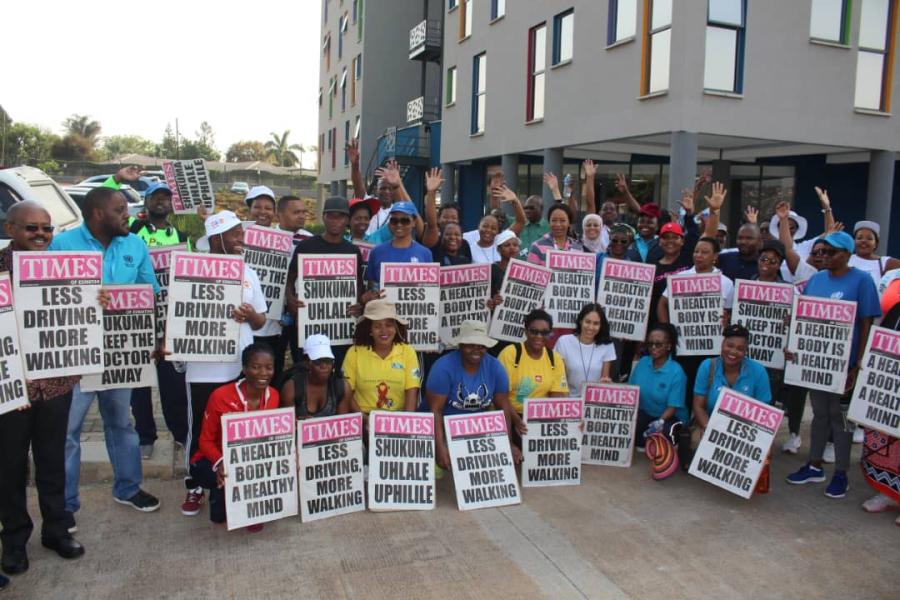 Photo | Winile Mavuso-Ndlovu/WHO
The "Walk the Talk: The Health for All Challenge" Walk is a global initiative, led by WHO to promote and encourage people around the world to do physical activity. WHO with global partners and delegates of the UN General assembly also staged the "Walk the Talk: The Health for All Challenge" in New York on Sunday 22 September 2019, a day before the United Nations General Assembly (UNGA) High-level Meeting on Universal Health Coverage.
The event brings together partners and the public to promote healthy lifestyles and highlight the need for access to health for all people around the world. The events held to date have combined, attracted tens of thousands of participants, including heads of state, world champion athletes, Nobel prize winners, government delegations, health organizations and the general public.
WHO is using New York edition of the event to send a powerful call on the importance of promoting "health for all" and provide a positive and healthy kick-off to the United Nations General Assembly meeting on Universal Health Coverage. It is a call to action to strengthen capacities and systems in all countries to deliver the wide range of health services needed to ensure all people receive the health care and protection needed.
In Eswatini, WHO partnered with the Eswatini National Sports Council under the Shukuma initiative, which is aimed at promoting physical activity at grassroot, and The Gladiators Gym Club, to conduct a march, followed by aerobics and yoga session for the UN staff at the UN Building car park.
Represented by Zama Tsabedze, the Eswatini National Sports Council gave a motivational talk to encourage people to be physically active while The Gladiators led the exercising session. The event started with a march across Mbabane City, where the UN staff and partners carried placards flagging messages promoting physical activity.
WHO Representative, Dr Cornelia Atsyor said physical exercise prevents the onset of diseases, particularly Non-Communicable Diseases and also promotes mental health and good sleep. She encouraged people to do some form of physical activity each day (at least 30 minutes physical activity per day which allows you to sweat and a higher/faster heart rate). Dr Atsyor further thanked the UN staff for joining the movement. 
UN Resident Coordinator, Ms Nathalie Ndongo-Seh also encouraged staff to use the stairs instead of the elevator. She noted that the UN staff was made up of young people and encouraged them to keep healthy by doing exercise.
UN entities involved in this initiative
UNDP
United Nations Development Programme
FAO
Food and Agriculture Organization of the United Nations
IOM
International Organization for Migration
WHO
World Health Organization
UNESCO
United Nations Educational, Scientific and Cultural Organization
UNFPA
United Nations Population Fund
UNICEF
United Nations Children's Fund