UN Eswatini and Partners Bring Smiles to 72 Families of Children with Disabilities in Lubombo
In partnership with the Deputy Prime Minister's Office, Woman Farmer Foundation and ADRA, UN Eswatini bring smiles to 72 families of children with disabilities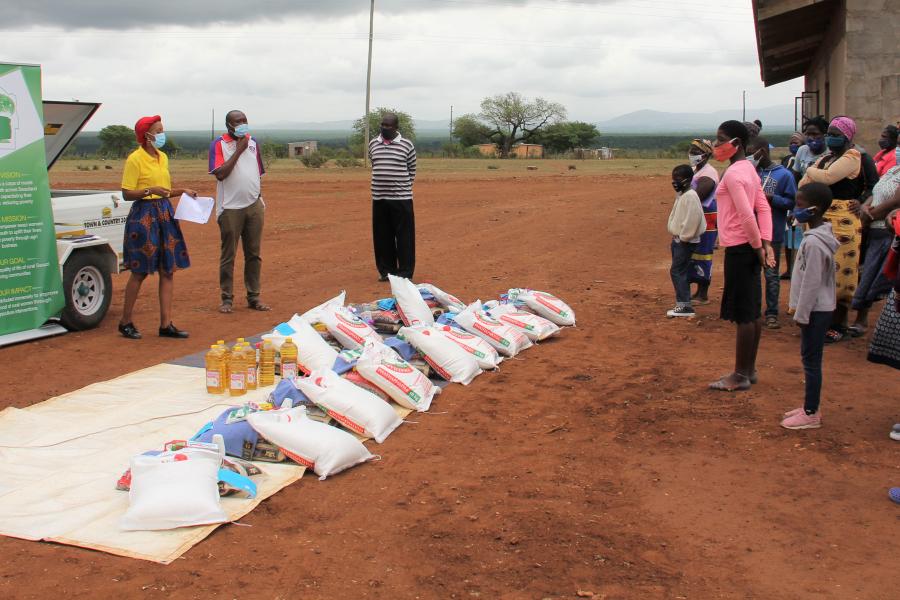 Photo | Fanele Fakudze | UNRCO
On the 18th of December 2020, the United Nations in Eswatini, led by the UN Resident Coordinator's Office, in partnership with the Deputy Prime Minister's Office, Woman Farmer Foundation and ADRA donated food, hygiene packs and personal protective equipment to 72 families of children with disabilities in the Lubombo Region.
The donation, aimed at contributing to COVID-19 infection prevention and control efforts, was made to families in Mpolonjeni, one of the areas worse affected by poverty and drought.
The families received 10kg of rice & mealie meal, 5kg of beans, 2L cooking oil, 100mls toothpaste, toothbrushes, roll-ons, body lotions and special skin cream specifically designed for people with albinism.
Speaking during the handover, Woman Farmer Foundation Executive Director, Ms. Sonia Paiva, expressed appreciation to the UN in Eswatini for bringing all the partners together to help the needy. "Our greatest supporter and partner the UN in Eswatini has made this task a possibility because the Foundation has over the years been exposed to a wide range of ill-health and poverty faced by Emaswati especially the families that take care of people with disabilities," she said. "There are several challenges that parents and guidance encounter while taking care of children with special needs and most of the time they find themselves confined in one place with restricted movements yet they are expected to cater for all the needs of the disabled family member. We are happy to be involved in this initiative of ensuring that no-one is left behind in development issues."
Lubombo Regional Secretary, Jane Mkhonta, also thanked the partners for their kind gesture and thoughts to needy people especially during the festive season. "On behalf of the office of the Regional Administrator in the Lubombo Region, we appreciate the kind gesture showed by our partners," she said. "The level of poverty and vulnerability is very high here therefore this intervention will definitely sustain a few lives as we pass through this season."
UN Resident Coordinator, Ms. Nathalie Ndongo-Seh was selected because it is among the least developed regions yet there were fewer programmes on the ground.  "Doing away with poverty and hunger remains our priority and is critical in this Decade of Action to achieve the SDGs (Sustainable Development Goals) by 2030," she stated. "We have a responsibility as partners: Government, Development Partners, NGOs, private sector and others, to ensure that we achieve the targets set out in the SDGs for everyone, including children with disabilities."
UN entities involved in this initiative
RCO
United Nations Resident Coordinator Office
Other entities involved in this initiative
ADRA
Adventist Development and Relief Agency
Goals we are supporting through this initiative