Minister for Tourism and Environmental Affairs, the UN Resident Coordinator and Honorable Guests Launch the Eswatini Tourism COVID-19 Health and Safety Guidelines
In efforts to reopen and recover Eswatini's tourism industry, the Government, partners and honourable guests launch the Tourism and National COVID-19 Guidelines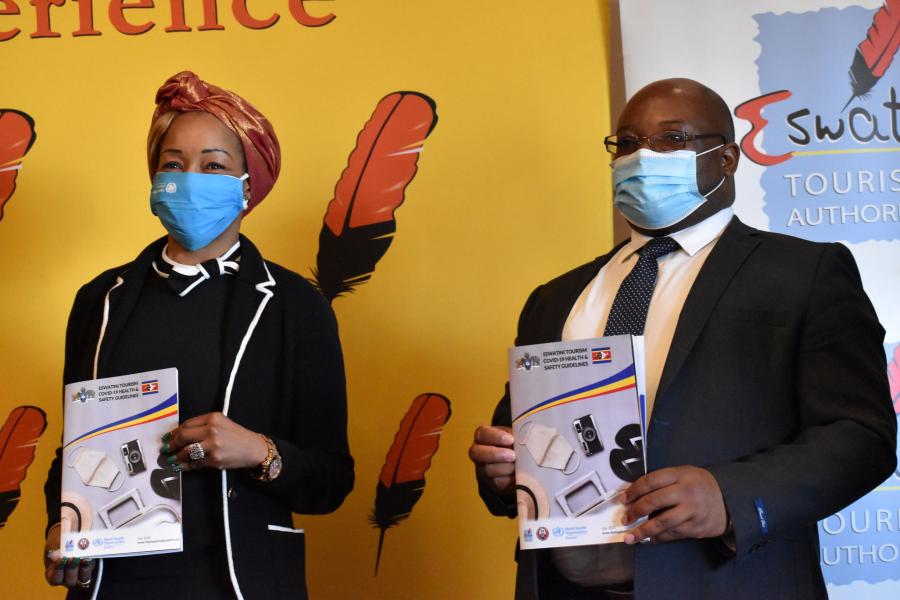 Photo | Erin Kennedy | UNRCO
Today, the Minister for Tourism and Environmental Affairs launched the Eswatini Tourism COVID-19 Health and Safety Guidelines, with honourable guests including the UN Resident Coordinator, the Acting World Health Organisation Representative, CEO of Eswatini Tourism Authority and the Acting Principal Secretary in the Ministry of Tourism and Environmental Affairs.
Hosted at the Royal Villas, the launch was broadcast nationally and internationally, as the Government seeks to safely reopen and recover the tourism industry amidst the COVID-19 pandemic.
"The launch of the Tourism National COVID-19 Guidelines is a clear demonstration of the Government's commitment and resolve to address the challenges of the pandemic head-on and explore all opportunities to recover better," stated the UN Resident Coordinator, Ms Nathalie Ndongo-Seh, in her remarks to guests.
Globally, tourism is the fastest growing sector which supports the livelihood of 1 in 11 people. Africa has a particularly high number of tourists each year with its diverse cultures, landscapes and animal life bringing many to the continent.
In Eswatini, tourism accounts for 2.8% of the GDP; with the nation's warm-natured people, low crime rates, beautiful landscapes, rich culture, festivals, game parks and close proximity to South Africa and Mozambique; the potential for the tourism industry in the Kingdom of Eswatini is undeniable.
With governments worldwide implementing lockdown measures and severely limiting travel for the health and safety of their people, the tourism industry has indeed been devastatingly affected. With only 10 years remaining to achieve the 2030 Agenda for Sustainable Development, accelerated efforts are needed within Eswatini to ensure that no one is left behind in the country's efforts to recover from COVID-19.
However, the opportunities arising within the pandemic are plentiful, especially for the tourism industry. The UN Secretary-General, Mr António Guterres, stated that tourism can be used as a platform for overcoming the COVID-19 pandemic as; "by bringing people together, tourism can promote solidarity and trust which are crucial ingredients to advance the global cooperation and solidarity that are so urgently needed at this critical time."
In closing, the UN Resident Coordinator stated; "With smart and timely action at all levels, and the 2030 Agenda for Sustainable Development as our guide or compass, we can emerge from this crisis stronger, with better tourism, better jobs and a brighter, more equal and greener future for all in Eswatini.Investing in people and in the planet , boosting infrastructure development and shaping better policies and institutions are key to shaping Tourism,"
"I encourage all those involved in the tourism sector to explore how together we may recover better, including through climate action and other steps that advance sustainability and build resilience. On our journey toward a better future, we must uphold our pledge to leave no one behind."
Please see more photographs here: https://eswatini.un.org/en/53009-minister-tourism-and-environmental-affairs-un-resident-coordinator-and-honorable-guests.
UN entities involved in this initiative
WHO
World Health Organization
Goals we are supporting through this initiative