H.E. Prime Minister Ambrose Dlamini and the UN Resident Coordinator Share an Insightful Dialogue on UN75
In solidarity, the Prime Minister and UN Resident Coordinator took part in the world's biggest conversation on how best to build a better future for all.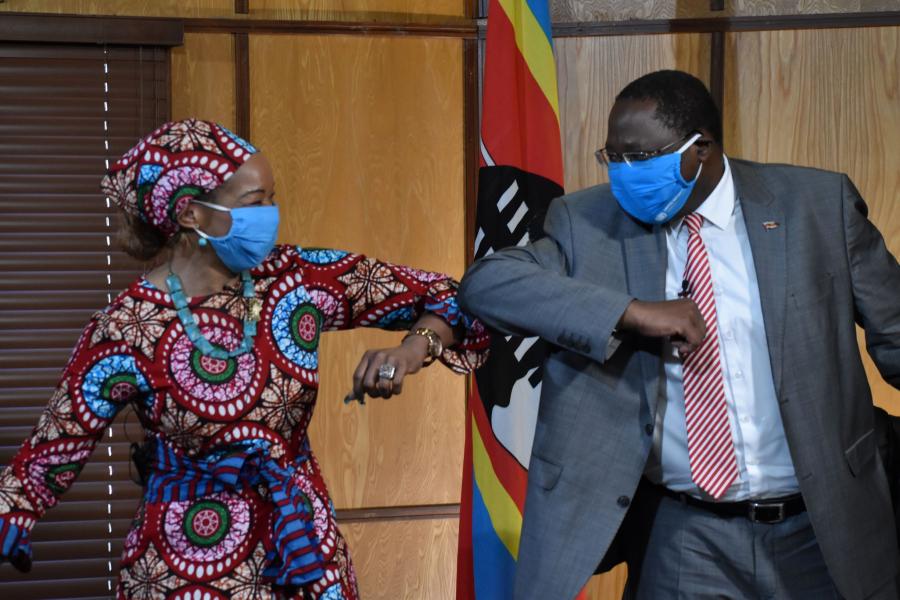 Photo | Erin Kennedy | UNRCO
Today, in solidarity, H.E. Prime Minister Ambrose Mandvulo Dlamini and the UN Resident Coordinator, Ms Nathalie Ndongo-Seh, shared an insightful dialogue on UN75; the world's biggest conversation on building a better future for all, launched by the UN Secretary-General, Mr António Guterres.
Hosted at Cabinet, the Prime Minister and Resident Coordinator conversed about international priorities to recover better from the COVID-19 pandemic, what the future might hold for Eswatini and the world, challenges to achieve this vision and how global cooperation, namely the UN, might help manage such challenges. The Prime Minister shared with the UN Resident Coordinator as a leader of Eswatini, father, husband, son and friend.
"His Majesty the King advocates all the time about peace, stability and unity; something we would really like to see in the Kingdom of Eswatini, Africa and the rest of the world. We hope for more peace, solidarity, equality, in terms of human rights, access to education, health and general prosperity of our economies; where we see growth and advancement that is inclusive, encompassing and does not disadvantage certain sections of society.
And that we continue to live in harmony with one another; issues of racism should be behind us when we talk about equality and how we relate to one another as global citizens. It is very important that we continue to respect each other and our cultures; our differences should unite us more. We should enjoy the diversity of the world and learn to live in harmony as global citizens, as countries, regions and the world. I think that if we can achieve these, we will have a better world," said H.E. Prime Minister Ambrose Dlamini.
In January 2020, the start of the UN's 75th anniversary, the UN Secretary-General launched the UN75 Dialogues, with a vision to spark conversations in all settings – from classrooms to boardrooms, parliaments to village halls – on priorities for the future, obstacles to achieving them, and the role of international cooperation in making progress.
Over 330 dialogues in 87 countries were held in the first three months of year, whilst dialogues have now largely shifted to taking place online.
The UN is marking its 75th anniversary at a time of great disruption for the world, compounded by the unprecedented global health crisis with severe economic and social impacts. We hope to emerge from the pandemic stronger and better equipped to work together; an outcome which can be spurred to become with dialogue to discuss our priorities as a human family and how we can build a better future for all.
In order to reach as many people as possible, the UN has built partnerships with youth, civil society, business and media organisations, to create a one-minute survey that is both quick and easy to complete.
Your voice must be heard during this critical time for the world. Your views, concerns and ideas will be presented to world leaders and senior UN officials at the official commemoration of the 75th  Anniversary by the UN General Assembly in September 2020. Groups around the world will then discuss how best to action the priorities and proposals generated.
Let us make the voices of Emaswati be heard!
Please see the link to photographs here: https://eswatini.un.org/en/53197-he-prime-minister-ambrose-dlamini-and-un-resident-coordinator-share-insightful-dialogue-un75
UN entities involved in this initiative
Goals we are supporting through this initiative