The UN Hosts a UN75 Dialogue with Business Women Eswatini
The UN hosted an inspiring UN75 Dialogue with Business Women Eswatini on Friday, 17th July at Happy Valley Hotel.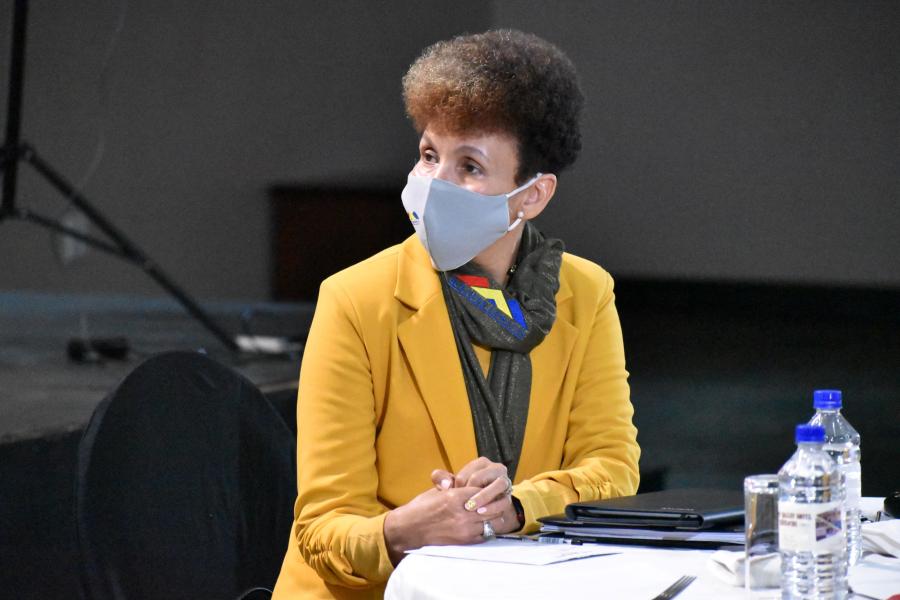 Photo | Erin Kennedy | UNRCO
On 17 July, the UN Resident Coordinator, Ms. Nathalie Ndongo-Seh facilitated a dialogue with Business Women Eswatini, a women chapter of Business Eswatini, an organization that represents the private sector in the Kingdom. The dialogue was attended by women entrepreneurs from across the country who shared their stories of challenging debuts and success, as well as how they are responding to the coronavirus pandemic.     In her opening remarks, Ms. Ndongo-Seh observed with concern the substantial impact that the COVID-19 pandemic has on women. She noted that women play a disproportionate role in responding to the virus, including as frontline healthcare workers and care-takers at home. She reminded in this regard that "Women disproportionately work in insecure labor markets - nearly 60% of women work in the informal economy - and are at greater risk of falling into poverty" .    The Resident Coordinator called for more support to women, especially during the coronavirus crisis. "To reduce the impact on women, measures to protect and stimulate the economy must target women" she stated.  She reaffirmed the UN support to advance women's empowerment and gender equality while reaffirming:  "We want women in Eswatini, who represent 51% of the population, to fearlessly follow their dreams and embrace their ambitions".     She encouraged the participants in the meeting to share their life experiences, voice their concerns in this dialogue and share their views on how a better future for all may be built. "As women, we are no longer invisible, we matter. So, I encourage you to teach your daughter that she is seen and heard; she holds the same rights as any other person whether male or female and shall bring positive transformation to Eswatini" she stated in conclusion.     Chairperson of Business Women Eswatini, Ms. Tokky Hou, who is also the CEO of Far East Garments, called for space to be created for more meaningful participation of female business owners. She urged the UN to support private sector development, through its comparative advantage in advocacy in order to promote ease of doing business policies that are women-friendly and support gender equality, as well as women empowerment in Eswatini's COVID-19 economic recovery strategy, to ensure women and girls are not left behind as passive beneficiaries but are rather at the frontline of the new Eswatini. 
Ms. Hou  informed the UN of a rural women empowerment project, Vukani Bomake Project (Women Rise Up), in which women undergo a full sewing course and receive industrial sewing machines. Examples of relevant SDGs in which women have had an impact were also provided and  include: SDG 1 – No Poverty, SDG 2 – Zero Hunger, SDG 3 – Good Health and Wellbeing: over 5,000 women farmers in Eswatini contribute to growing food that feeds the nation, including their own families and communities, SDG 5 – Gender Equality & SDG 10 – Reduced Inequalities: women farmers and business owners not only give women an income for themselves which provides freedom and security, but also it is well known that women disproportionately reinvest in their families and communities to lift others up, in the process directly and indirectly encouraging other women and girls to do the same, SDG 8 – Decent Work and Economic Growth: Not only do female business owners and farmers promote and actively provide opportunities for female employees and colleagues, in Eswatini they constitute a majority of the 60% informal businesses, which are the main economic engine of the country, SDG 17 – Partnerships for the SDGs: through the Business Women Eswatini and Woman Farmer Foundation among others, women are already coming together to work together on advancing the goals mentioned above, and further work with regional and continental bodies to share and collaborate with other women across Africa and globally.    Various women entrepreneurs working in agriculture and Agri-processing, construction, textiles, tourism, education and recruitment services attended the dialogue. These women expressed the common desire to see greater representation of women in leadership; increased gender equity, especially in aspects such as land ownership; and justice for the oppressed, all contributing to enabling and empowering women to create a better future for all.  
UN entities involved in this initiative
Goals we are supporting through this initiative