FAO Hosts an Incredible UN75 Dialogue with Women Farmers
In collaboration with Women Farmer Foundation, FAO hosted an inspiring UN75 Dialogue with women farmers from across Eswatini.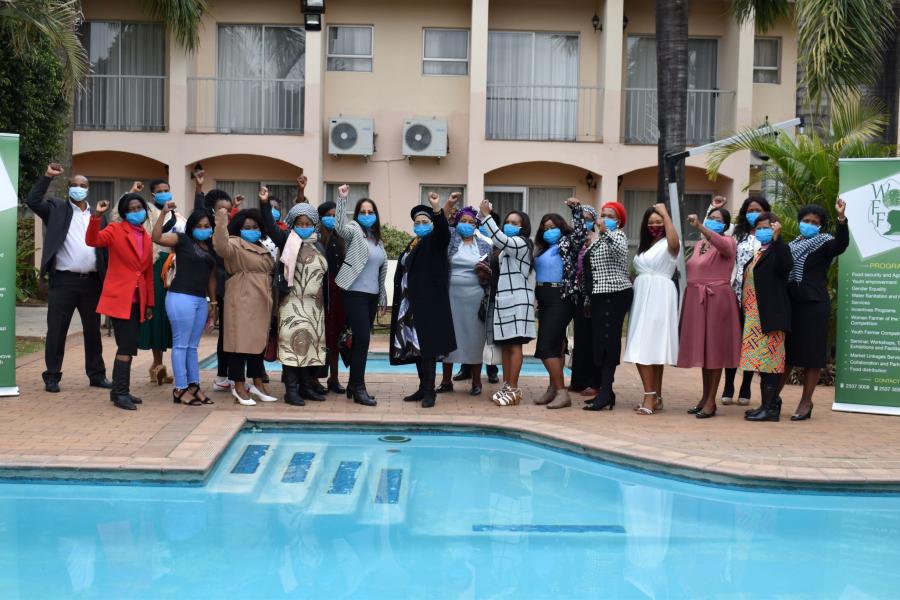 Photo | Erin Kennedy | UNRCO
On 24 July, in collaboration with the Women Farmer Foundation, UN Eswatini represented by Ms. Khanyisile Mabuza, Assistant Representative of the Food and Agriculture Organisation (FAO), facilitated a UN75 dialogue with Emaswati women farmers.     Ms. Khanyisile Mabuza informed the participants of  FAO's support to local farmers to increase local vegetable production in response to COVID-19 anticipated food shortages. The  programme is implemented in collaboration with the National Agricultural Marketing Board. In addition, FAO has been distributing vegetable seedlings and seeds to farmers across the country.. "We believe this intervention will ensure sustainable vegetable production in the country even after COVID-19 for food security at household and national levels" she said.    Founder and Director of the Women's Farmer Foundation, Ms. Sonia Paiva noted that there are many opportunities in the agricultural sector when considering the available value chains. She called for radical transformation of the sector to enable participation of the youth, who may focus their efforts on growing marijuana rather than participating on conventional farming.  
Other speakers noted the shortage of agricultural skills, especially in the processing, the distribution and the marketing of agricultural products.    In response to the UN75 question on what the women farmers would like to see in 25 years, they responded that the Woman Farmer Foundation and similar organizations should have access to funding to reach more farmers, with start-up funding be afforded to new and young farmers, in addition, current young farmers' shall be granted a mentorship model,  with a mapping of the agriculture industry so consumers know where to purchase certain goods in specific parts of the country. The women highlighted the need for less encroachment of agricultural land for the purpose of creating residential areas, with new policies being implemented and education of local authorities also being provided at the chiefdom level to protect this land.     The challenges they noted in accomplishing this in the future included the lack of access to farming funding; agriculture projects should include the actual implements for start-up farmers, which is currently the reason why more young people are not becoming farmers; the lack of water polices with specific goals for farmers in all parts of the country; the mainstreaming of land, agriculture and water policies, including their implementation; the lack of local access to seeds and other factors of production.     Ms Paiva thanked the UN Resident Coordinator for her passion in advancing issues of women, girls and the youth in the country . "We pray that she stays longer in Eswatini because we know that, with her support, we are going to achieve great things as women" she said. 
UN entities involved in this initiative
FAO
Food and Agriculture Organization of the United Nations
Goals we are supporting through this initiative