The UN Shares an Important UN75 Dialogue with Persons Living with Disabilities
In collaboration with the Deputy Prime Minister's Office and FODSWA, the UN hosted a crucial dialogue with persons living with disabilities on 23rd July.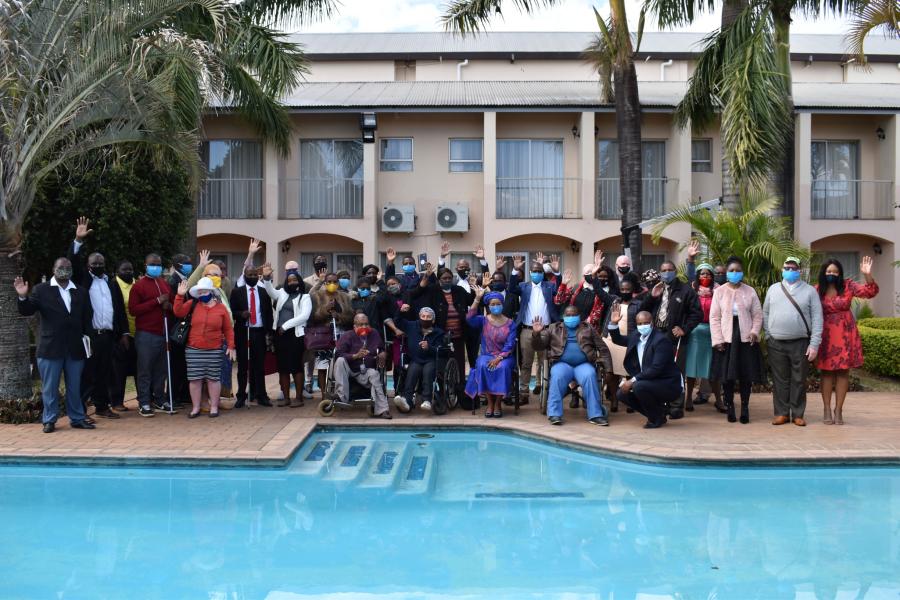 Photo | Erin Kennedy | UNRCO
On 23 July, UN Eswatini in collaboration with the Deputy Prime Minister's Office and the Federation of Disabled Persons Organisations of Eswatini (FODSWA) facilitated a dialogue with persons with disabilities (PWD), on shaping a better world, especially after COVID-19.  
The UN75 dialogue brought together over 40 persons with disabilities from across the country who shared their life experiences and challenges on how the coronavirus had impacted on their lives.  
Most participants expressed frustration at how  persons with disabilities are excluded of matters pertaining to their lives. "Even in the task teams set up to respond to COVID-19, persons with disabilities are not represented" stated  Mr. Sipho Dlamini, President of the Federation Organisation of Disabled People in Swaziland (FODSWA). 
Mr. Dlamini also expressed concern at the delay in the operationalization of the Persons with Disability Act of 2018 and the National Policy on Disability of 2013. "We have enough policies and laws, all we need now that they should be operationalized," did he say. 
Another speaker appealed on the Government to ensure that persons with disabilities are included in political appointments, board appointments and all structures of national importance.  
The dialogue revealed that COVID-19 has deepened inequalities and vulnerabilities faced by the PWD, such as sexual violence against children and girls heightened during the difficult times of lockdowns and loss of livelihoods. 
However, it has also brought the unique opportunity to learn from disabled people lessons of unity and solidarity, resilience, adaptability, creativity and achievements under difficult circumstances.  
In their responses to the key UN75 questions, the audience noted that, in the next 25 years they would like to see universal design principles inclusive of all PWD; acceptance and full inclusion of PWD in society; collaboration of chairpersons of all Disabled Persons Organisations; and gender-inclusive leadership in such organisations; with more seats for women with disabilities; recognition of all independent Disabled persons organisations, with these organisations being strengthened and capacitated with international recognition, so they can access external funding and not rely solely on principal receivers, who are not aligned with the specific organisations; and finally for the Disability Act of 2018, representing the voice and rights of PWD, being domesticated, known and operationalized in the same way and vigor of other laws passed in 2018 e.g. SODV Act of 2018.
Challenges that the group mentioned in achieving these goals include the lack of representation for persons with disabilities in Parliament and other major decision making-bodies in the country.  
In her remarks, the UN Resident Coordinator, Ms. Nathalie Ndongo-Seh stated that the UN  has long supported the development, the enactment  and the implementation of key policies and pieces of legislation that ensure respect for the dignity of PWD, nondiscrimination, and equal access to social protection schemes, education, employment, decision-making positions and other opportunities.  "As the UN, we support the operationalization of the National Disability Advisory Council for Persons with Disability, with membership comprised of PLWD" she stated.  
"The UN family funded a census, which led to the preparation of the Disability, Albinism and Epilepsy Report, a tool that can be used for accountability, advocacy, and data, which is especially  important in ensuring an inclusive humanitarian response to COVID19" she added. 
The UN Resident Coordinator,  called for a change in the narrative, new perceptions and depictions of PWD as contributors to countries' development agenda  rather than beneficiaries or recipients of benefits by including them in all sectors of society. "Persons with disabilities have important contributions to make in tackling the crisis and building the future in an inclusive, green, human-rights centered approach, through their life experiences and perspectives which offer new, creative, and innovative approaches to challenges" she said. 
UN entities involved in this initiative
Goals we are supporting through this initiative